[The Uncommon Creatives] Interview with Joy Ugiagbe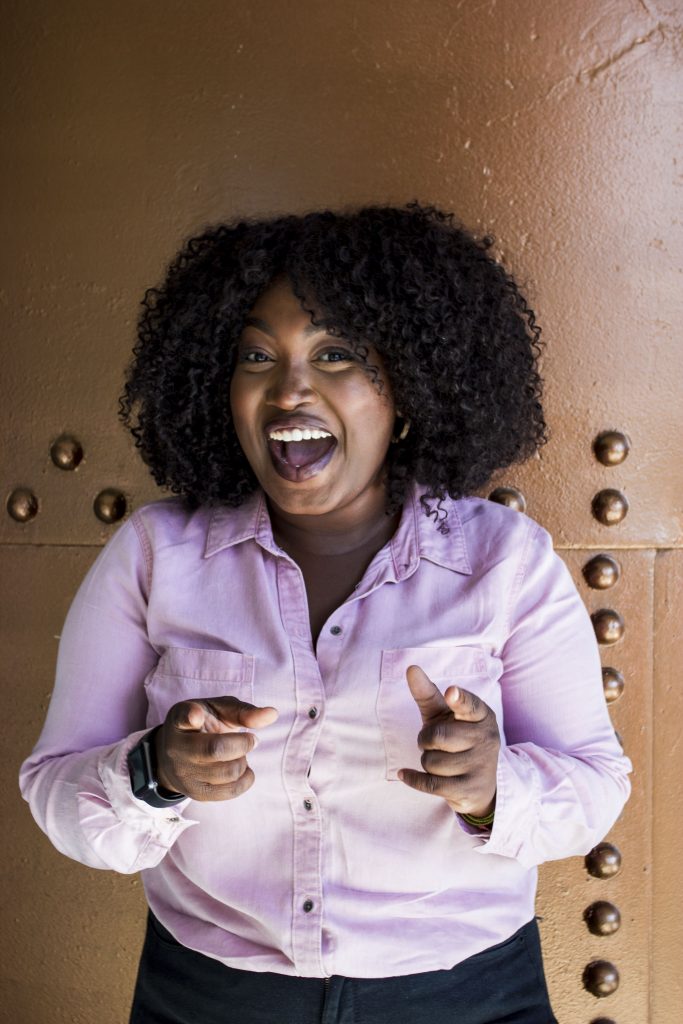 There is no doubt about Joy living up to her namesake. She embodies proudly both risen cheekbones on her face.
I met Joy earlier this year at the Alpha Female Fest, a wonderful experience brought to Baltimore by the wonderful Cheyanne Givens. She was very eager to speak about her work and inquire about how she can get to know other photographers and artists in the region. I admire that about her because I was once in that space. Even though I am from Baltimore, I found myself in the beginning stages of my career trying to connect with other people in my artistic medium.
Joy's work consists of mixed media, black/white and color portraiture and street photography. All of her images are shot digitally. I like that her images are very crisp with a film-like finish . Her portraits that are in color are noticeably vibrant while her portraits that are in black and white serve as impactful and intimate. Her use of shadows is immaculate as she knows what instances to make them the forefront of her images. The moments that she captures are always raw and candid. I got to sit down with Joy to see what goes on in her creative mind and learn more about who she is as an artist.
Interview with Joy Ugiagbe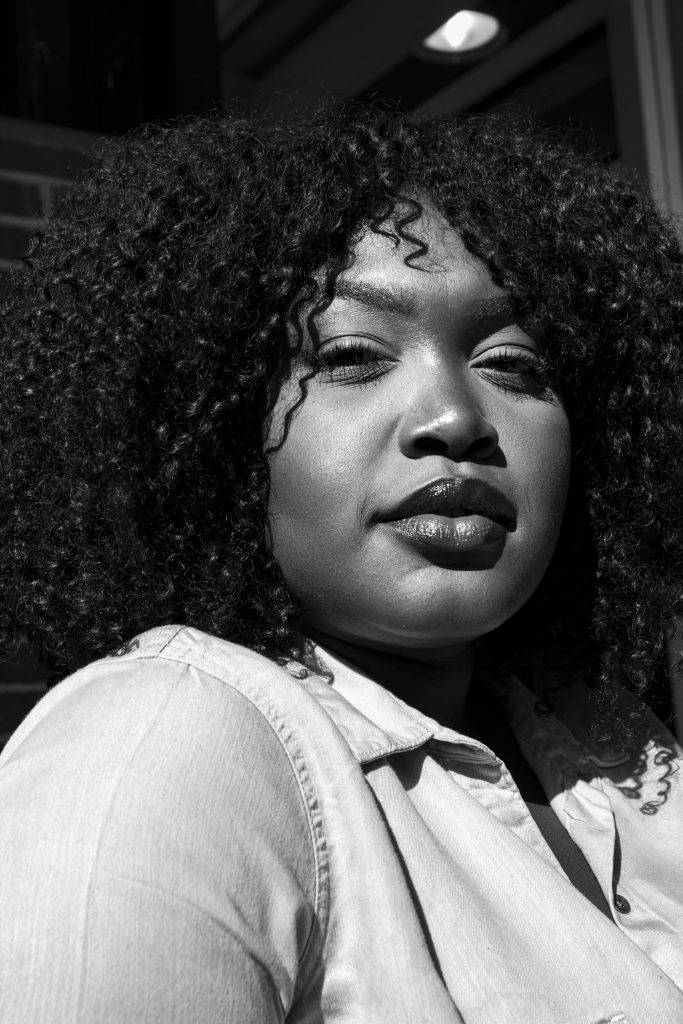 SM-We're going to start with your name, age, where you're from.
JU- My name is do you want my full name, or do you just want what I go by?
SM- What you go by is fine, if that's more comfortable for you.
JU- Joy, I'm 23 years old and I'm from New York. Bronx. Born in Nigeria and currently in Baltimore.
SM- What is it that you do creatively?
JU- I'm a photographer, I'm a street photographer. Trying to tell stories through my lens is what I've been doing too.
SM- What does being a creative mean to you?
JU- To me I believe what a creative person is, is just being able to, I would say…I really gotta think about this, it's just being able to translate what you see the world as. Or what you've seen your experience as, whether it's through painting, whether it's through fashion, whether it's through photography it's just being able to translate that into your own language.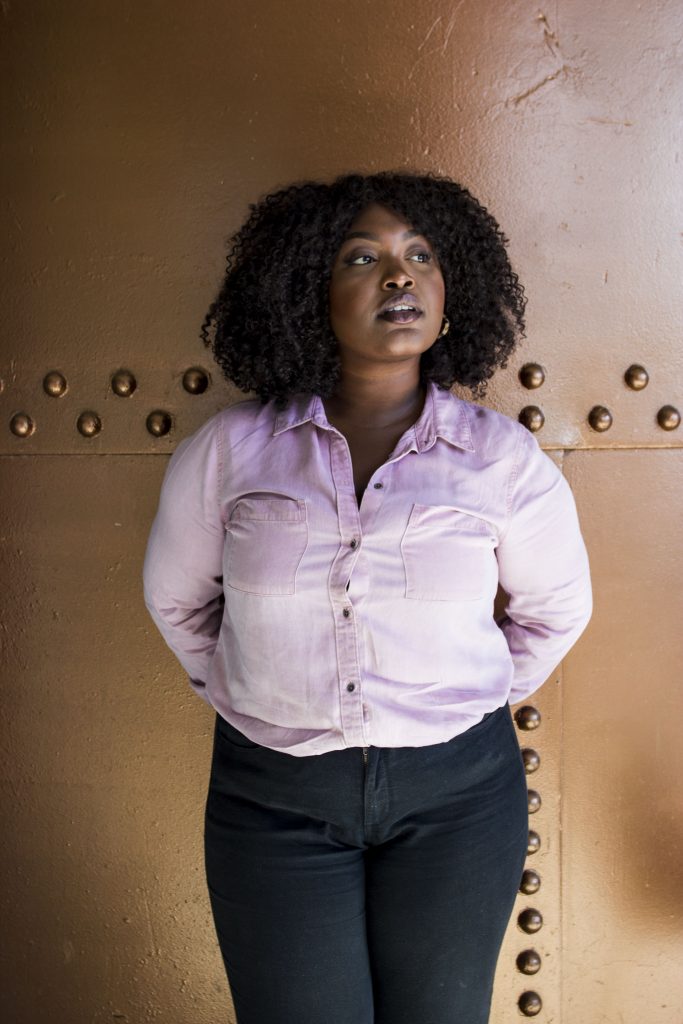 SM- And, is that your passion?
JU- Photography? Yes it definitely is my passion!
SM- How did you discover that this was your passion?
JU- Well so, for one other people were telling me before I even picked up an actual camera that I had an eye, you know? So, there's other people seeing your potential before you see it yourself. Another reason was when I went to Nigeria this time last year, I didn't have my camera with me because it broke, and someone stole my phone in church. So, while I was there I would always cry due to the fact that I couldn't take pictures seeing different things around me and not being able to capture it, that really made me sad. Mind you, my name is Joy, so you know just for me to kind of dwell in that sadness it showed that photography meant something to me on a deeper level.
SM- So how long have you been doing photography?
JU- I've been doing photography for about 3 years now.
SM- What are some hardships that you've experienced developing as a creative?
JU- Whew…Hardships! Getting out of your own head I would say, just mentally. I think sometimes as artists we tend to overthink a lot while some people don't. For me, I think I overthink the way I do certain things so it kind of has an effect on me.
SM- So, how do you overcome those hardships?
JU- Honestly looking at my previous work and seeing who the fuck I am, you feel me? Like sometimes thinking too much can honestly trap you mentally, so it's like you've got to remind yourself that you're that bitch, like Lizzo said. And you know, just keep on pushing don't dwell too much.
SM- I feel that, I feel that! How do you help others with your craft?
JU- How do I help others with my craft…I would say that I inspire my friends more so to just capture what they see, with me being a street photographer I like taking pictures of moments. So I kind of influenced that onto my friends as well for them just to be able to capture the moment they're in so that when you look back on it you can see how happy you were or how sad you were just as a reminder of your life.
SM- What makes you stand out in your creative field? What is that factor what would make people say "Oh that's Joy's work!"?
JU-I would say what makes me stand out from most artists, is the way I take my photos. I really like to capture the raw moments, so it's the way I am when I'm taking my photos. I don't really like being noticed, it's the way I hold my camera, it's the things I tell people in order to get a reaction. That's what makes me different and my black and white shots are amazing, I'm just saying. *Laughs*
SM- Okay! If you could do anything other than photography, what would it be?
JU- If I could do anything other than photography, I'd say I would dance. I like dancing as well, a lot of people don't know. *laughs*
SM- Dope, dope, dope! Who or what are your creative inspirations?
JU- My creative inspirations. I would definitely say my brother, for one. My brother's also an artist he's the one that actually inspired me to become an artist. He paints and he also takes photos as well. You know, growing up in an African household a lot of parents do believe in the arts they would say "What is art? How do you make money out of it?" But my brother showed me that it's not about making money, it's about following what you love, it's about doing what you love. Something that comes from your internal being, so he's definitely my inspiration. Also, Devin Allen. When I came to Baltimore there were so many things, I wanted to do but didn't know how, but when I saw Devin Allen's work I was like, "Oh! So, this is how it's supposed to be!" He just kind of gave me like a blueprint of, how do you say it? Of what I wanted to do not knowing how to capture it, he definitely influenced my work. And Vivian Maier, from New York.
SM- I'm going to follow her, you've got to give me her info…
JU- Well she's dead, but her story is amazing. They didn't find out that she took photos, until after she died and she took so many great shots and she was a babysitter so, not many people knew she was a photographer.
SM- So, of course you've met your brother, but have you met Devin?
JU- I have, just like briefly! *Laughs* I was really nervous, and when I get really nervous, I don't talk I just look and smile. So that's pretty much what that was but third times the charm.
SM- What is the most rewarding thing that has happened in your career so far? Any awards or accolades?
JU- The most rewarding thing, I would just say is being able to, how do I answer that? Oh! I applied for a Fuji Film contest back when I was at Morgan, I ended up being a finalist and they published my work in a book but I didn't have money to buy the book. So, that's why it didn't really feel like an award.
SM- Can you still get it?
JU- I can email them, but I just kind of moved past it. But I was really shocked that I was picked as a finalist!
SM- You should get that, that's your work! I know this is cliché, but what do you see yourself doing in 5 years?
JU- In the next 5 years, I either want to work for a brand like maybe Under Armour if I'm still here in Baltimore, or just a different brand where I get to showcase my work and take photos through their brand. I really see myself doing that in the next 5 years. And/or I want to get closer to doing infant shoots, it's a way of me telling my story and i feel like when I take pictures of kids it means more to me than a lot of people would know, so I would like to get my photography there one day.
SM- Cool! And, to wrap up, can you tell everyone where they can find you, like on social media, websites, etc.
JU- Oh, definitely! You can follow me on instagram and twitter, I go by @ohmyjoyy. Thanks guys!
SM- Thank youuu!