[Music] Jaden Smith brings his positive vibes to Baltimore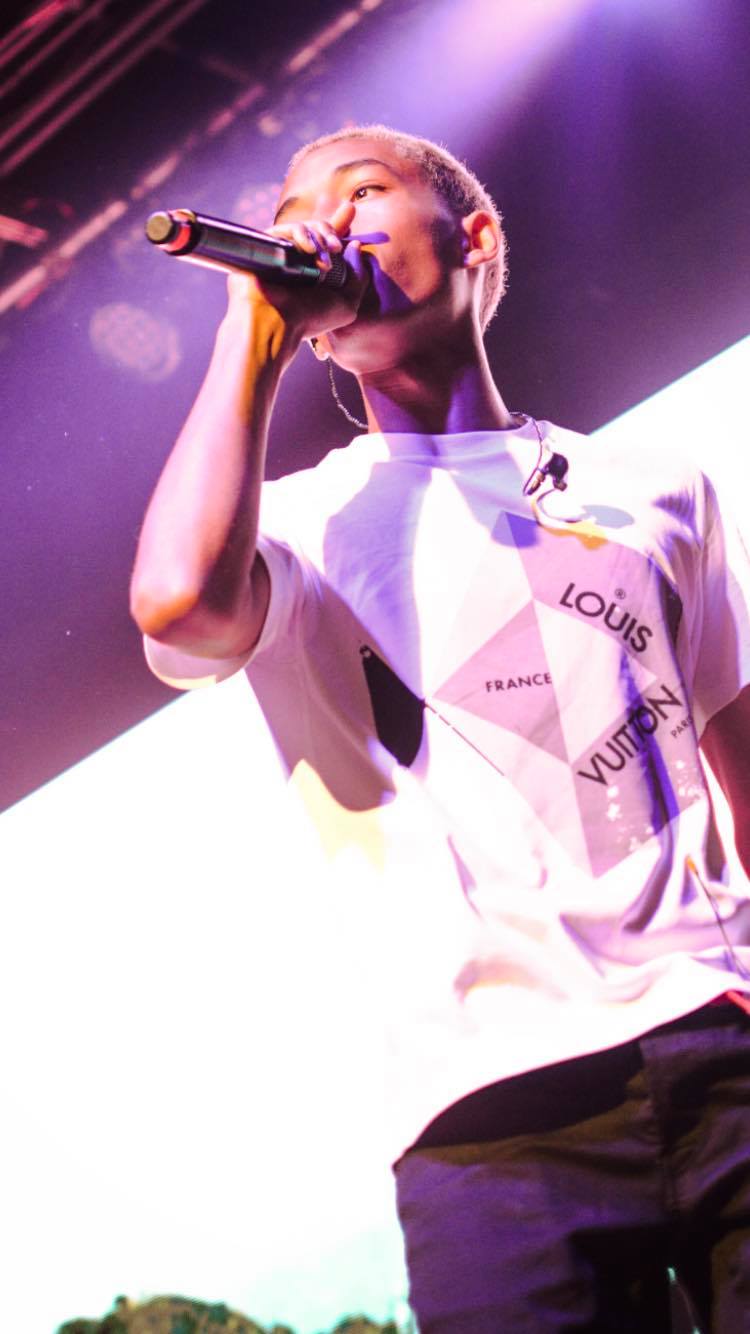 As I woke up with a jammed knee, I thought:
"Damn, life isn't that bad."
Last night I attended my first Jaden Smith show. Baltimore was his second to last stop on his Vision Tour. I always thought he was very mellow and down to earth young man, not your typical young artist. His aesthetic is definitely distinct. I saw these tickets on sale a few months back and thought that it wouldn't be so bad to see him in concert.
I was definitely right.
I also was fighting my inner thoughts,
"Bitch, you only know like 3 songs, why are you going?"
Then I thought about how I let my inner thoughts rob me of fun sometimes. So I bought the tickets anyway.
Fast forward.
The day is here and I begin to get super hype. I was a little bummed because I wanted to bring my camera and take photos, but I didn't let that damper my concert-goer mood. When I arrived at the venue, there was already a line that almost wrapped around the corner. Everybody looked so young and carefree, I kept calling myself old when I'm only all of 26 years old. I met some cool people while waiting. I even got to listen to some independent music. It was obviously an opportunity to get your hustle on so a couple of music artists had no shame. There was a mom in line with her kids and her son's name was Jaden Smith. That was so cute and comical.
I stood in line for about an hour and a half before doors opened. The only thing on my mind was how I was going to shove myself to the front, or near the front, of the stage. Childish right? So what. I also was puzzled about who the opening acts were. I know that only in a perfect world the artist of the night would go on early. Good thing I wore comfortable shoes because my feet were elevated most of the night from jumping up and down.
*Music begins to play, projector on stage begins to show beautifully shot shorts of Smith. The crowd goes wild.
I had to remember that this crowd was a bit different than what I'm used to. People there were as young as 8 or 9 years old. Hell, I saw a little girl crying so hard because the opening acts just kept coming. She was ready to see Jaden.
The opening acts included Conrad ii, IQ, Ian Frequency, Tyler Cole, and Baltimore's own, Nephew. Jaden also did a set with ¿Téo?.
This is the first show I've been to where all of the opening acts received great feedback from the crowd. My energy was definitely in a great place. Once Jaden came out, the crowd was already in beast mode. He proceeded to perform songs off of his debut studio album, Syre.
My social battery died after Jaden performed Icon, after being part of a minor mosh pit and being stepped on, I was like,
"Oh fuck no. Grab your shit and go Shae."
By the time I decided to move, I had already shoved and hit a few people. I moved my cute ass to the back and enjoyed the rest of the show. I thought it was so cool for him to mention that Baltimore is his mom's hometown, although I already knew that, it made me turn up even more. He concluded with a second performance of Icon, but he brought everybody back out including Willow and his girlfriend.
The fun didn't end there though, Jaden left the stage only to return again and perform one more song. The crowd quickly ran back into the venue. Like, why can't I experience this kind of love every day? At that point, I felt that genuine love that he has for his fans.
Once the venue cleared out, there were still a few stragglers including myself.
Jaden's next and last stop on his tour is in Atlanta, Georgia. I can tell that it has been a great run.